How Touchless Touch Works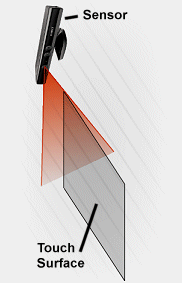 Touchless Touch uses the power of one (or more) Kinect, Orbbec Astra, or OpenNI Compatible sensors. These sensor(s) are placed around the outside edge of the display or surface.
Once the software has been installed and calibrated, the data from the sensors is analysed and turned into real Windows 7, 8 or 10 touch events. Windows even thinks a real touch screen is connected and therefore will work with all your normal touch applications!
For most applications only one sensor is needed. For complex multi-user multi-touch applications, or very large surfaces we recommend using two or more sensors.
Why not watch some videos on YouTube that show Touchless Touch being used!
For more information please have a look at Installation or the PDF manual or consult our Frequently Asked Questions
See It In Action!