Quick Installation Guide
The manual contains a detailed step by step guide of installation and calibration.
Below is a short overview: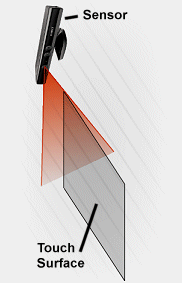 Fig 1: Sensor Position
Download and Install the Touchless Touch Software


If you are using a Kinect for Xbox 360 sensor download and install the Kinect SDK and then reboot.


If you are using the Orbbec Astra or an OpenNI device install the drivers that came with the sensor and then reboot.


Mount your sensor(s) flat against the touch surface in one of the corners, pointing diagonally across to the opposite corner, at least 60cm away from the touch area (see Fig 1 and Fig 3).


Goto the notification area, look for this icon: and double-click it


Look to see if your sensor has been detected: (see Fig 2)





Fig 2: Sensor Status



Press Calibrate Devices and follow the messages on screen


If your touch surface is reflective or shiny then during calibration, stick a sheet of paper over each touch point, and then repeat calibration. If this does not help then cover the entire surface and repeat.
Quick Calibration Demo

See More Videos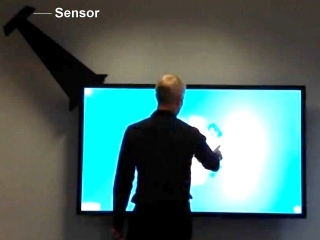 Fig 3: Photos of real setups with sensor position shown
For more information, and trouble shooting guide please consult the full manual and check the Frequently Asked Questions.